Exceed and Excel x Preserve (Canny Lad)

Chesnut 15.31/2hh 

Born 2010  

$4,400 incl GST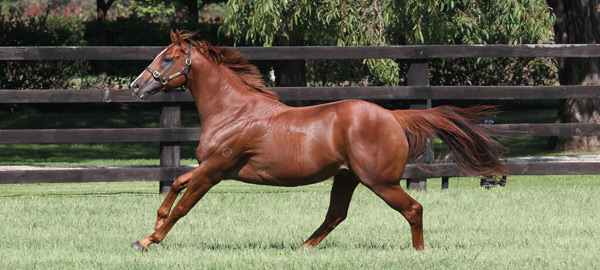 We believe SAFEGUARD has all the qualities that will make a wonderful sire – pedigree, performance and physique.
A son of the world's best sire of two year olds (EXCEED AND EXCEL), out of a dam (PRESERVE) who won the Group 1 MRC Sires Produce who is a half-sister to the Group 1 winning sire DENMAN, SAFEGUARD has a Golden Slipper winner in each of his first 4 generations. This remarkable situation has been further enhanced, as the dam of the 2019 Golden Slipper winner KIAMICHI, is a half-sister to the dam of SAFEGUARD, making the Slipper winner a very close relation to him.
SAFEGUARD was undefeated at two, including the Group 3 Kindergarten Stakes a race that has been won by horses such as HALLOWED CROWN, FURNACES, ASTERN and more recently BIVOUAC and DOUBTLAND all of which have become stallions.
At three he won the Group 3 Vain Stakes also won by SEPOY,  STARSPANGLEDBANNER, TOORAK TOFF, RUSSIAN REVOLUTION, JUKEBOX AND BIVOUAC, before going down narrowly in the Group 2 Danehill Stakes. He continued to race with distinction at stakes level before we purchased him off the track in preparation for the 2015 stud season.
And now SAFEGUARD's offspring are producing on the track! His first crop of 30 live foals has seen 29 named and 25 have raced for 23 winners (92% winners to runners!!) and has produced two stakes performers in Miss West Coast and Specialism. It is easy to understand how he won the 2019 WA 2yo Sires award as well as the WA First Season Sire award and ranking 7th in the Australian First Season Sires table.
At the beginning of July, with his fifth crop now 2yo he continues to produce results from relatively small foal numbers. He has had 95 offspring race with 68.4% winners to runners and 10.5% stakesperformers to runners. His two year olds this year have been outstanding, with his 8 runners prodicung 3 winners and 3 placegetters and 2 stakesplaced performers, which see him closing in on another 2yo Sires Premiership in WA. He has winners from 1000m to 1600m in all track conditions and his progeny are training on as 3 and 4 year olds.
The sales reecord of SAFEGUARD is equally impressive as he continues to sell 6 figure yearlings and always sits in the top few averages of the sales.
So whether you are breeding to sell or to race, SAFEGUARD ticks all the boxes!!
In setting his stud fee for the 2023 season, we have recognised that to succeed, stallions need both quality and quantity of mares, and so we have placed him at a price that should see him receive a significant book of mares.
SAFEGUARD is one of the few really commercial stallions available in WA and will stand the 2023 season for a stud fee of $4,400 (incl GST).
eBrochure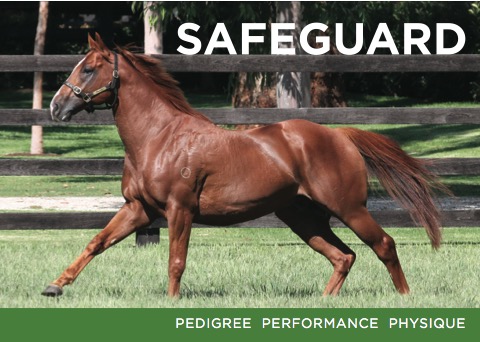 Contact
Colin Brown (Mogumber Park)
0408 251880
Pedigree grid
EXCEED AND EXCEL (AUS)
B. 2000
GW 7 wins
f:2783 r:2480 w:1761 SW:209
Danehill
B. 1986
GW 4 wins
f:2414 r:2083 w:1631 SW:347
Danzig
B. 1977
Wnr 3 wins
f:1075 r:837 w:658 SW:198
Northern Dancer
Nearctic
14
Natalma
2
Pas de Nom
Admiral's Voyage
4
Petitioner
7
Razyana
B. 1981
Pld
f:14 r:11 w:9 SW:5
His Majesty
Ribot
4
Flower Bowl
4
Spring Adieu
Buckpasser
1
Natalma
2
Patrona
Ch. 1994
Wnr 1 win
f:5 r:5 w:5 SW:2
Lomond
B. 1980
GW 3 wins
f:721 r:546 w:296 SW:30
Northern Dancer
Nearctic
14
Natalma
2
My Charmer
Poker
1
Fair Charmer
13
Gladiolus
Ch. 1974
GW 17 wins
f:12 r:10 w:7 SW:3
Watch Your Step
Citation
3
Stepwisely
6
Back Britches
Carry Back
5
Foxbritches
23
PRESERVE (AUS)
Ch. 1997
GW 4 wins
f:11 r:10 w:10 SW:2
Canny Lad
Br. 1987
GW 8 wins
f:1435 r:1168 w:794 SW:55
Bletchingly
Br. 1970
GW 4 wins
f:625 r:531 w:420 SW:63
Biscay
Star Kingdom
1
Magic Symbol
2
Coogee
Relic
8
Last Judgement
7
Jesmond Lass
Ch. 1975
Wnr 7 wins
f:14 r:8 w:7 SW:3
Lunchtime
Silly Season
1
Great Occasion
7
Beautiful Dreamer
Coeur Volant II
9
Adina Rose
14
Peach
B. 1991
Wnr 1 win
f:14 r:12 w:11 SW:3
Vain
Ch. 1966
GW 12 wins
f:631 r:498 w:395 SW:46
Wilkes
Court Martial
1
Sans Tares
13
Elated
Orgoglio
23
Rarcamba
A9
Market Maid
B. 1985
NR
f:12 r:9 w:7
Marscay
Biscay
2
Heart of Market
4
Marjoram
Major General
1
Dark Queen
5